Our Partnerships
One of the purposes of the Community Foundation is to work with community partners to fund and complete projects that will enhance the community of Campbellford/Seymour (which spills over to benefit all of Trent Hills), and as of 2023, all of Northumberland County.
Our Partnership with the Municipality of Trent Hills
A member of Council from the former Municipality of Campbellford/Seymour, and/or the Mayor, is a liason between the Community Foundation and the Municipality. We are proud of our unique partnership with the Municipality and look forward to many years of continuing to work together to make a difference, in not only Campbellford/Seymour, but all of Trent Hills.
The Revitalization of Kennedy Park project illustrates how partnering and collaboration can embrace and enhance an entire community. The Community Foundation not only partnered with the Municipality of Trent Hills, but also with the Campbellford/ Seymour community and reached out to the communities of Hastings and Warkworth for the Playground Projects, truly making this a Trent Hills Collaboration!

In 2014 the Community Foundation partnered with the Municipality on Flourish - The Trent Hills Wellness Campaign, a $7 Million fundraising campaign aimed at contributing to the overall health and wellness in the Trent Hills community. The Campbellford Memorial Hospital Foundation was also a partner in this exciting initiative. The campaign was funded by a $150,000 grant from the Municipal fund, over 3 years.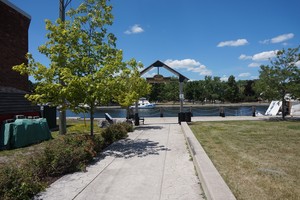 The Community Foundation partnered with the municipality on a grant application to the Northumblerland Community Futures Development Program to revitalize the waterfront in Campbellford.
Much of the makeover centred around Trent Hills top attraction and the gate-way for visitors - the Trent Canal. A waterside walk, park benches, nautical themed chain and post markers and a welcoming entry gate to the walkway enhanced this central core of Campbellford. New bridge lights were also added, to match the existing antique looking street lamps.
This project was jointly funded by the municipality, NCFDC, and the community foundation. The community foundation provided close to $310,000 in grant funding towards this project over 4 years, from the Municipal Fund.
The community foundation also provided grant funding to the Campbellford BIA for banners for the downtown area in 2006, for Christmas wreaths for the lamp posts in 2007, and for the new snowflake decorations in 2019.
This fund was also created with half of the proceeds of the sale of the 100-year-old public utility and is for projects determined by the Municipality of Trent Hills.
Other Partnerships
Some of our other community partners include:
Campbellford Memorial Hospital Foundation
Trent Hills Chamber of Commerce - we are a member
Campbellford BIA - we are a member
Supporting Your Community Resource
We also created a resource to connect donors to the outstanding charitable organizations who serve our community. Profiles of each showcase the many opportunities to make a meaningful contribution to a cause that is important to you. We hope you will be inspired by their work, and responsive to their needs. Check it out>>
The Trent Hills Community Toolkit was created as a resource for community organizations. It provides information on community collaboration and networking, encouraging belonging and inclusion in our communities, and it has tools to assist organizations to be organized and efficient.
Relentlessly pursuing a future where everyone belongs
We believe in a future that is bright; a future that is just and sustainable; a future that goes beyond the status quo. We're building a movement that connects community foundations, Canadians and partners to make this future a reality.
Community Foundations of Canada is the national network for Canada's 191 community foundations. Together we help Canadians invest in making our communities better places to live, work and play. More than 90% of Canadian communities have access to a community foundation – from our largest cities to our smallest towns. Collectively we hold combined assets of more than $6.2 billion and we've put hundreds of millions back into communities.
We put the strength of our philanthropic network to the best possible use for our communities and our country. We're championing the issues that matter to Canadians with an eye on the change we can make, now and for future generations. We're exploring new ways to make a collective impact hand-in-hand with partners who share our vision.
CFC Vision Brochure - All for Community - Community means so many things to so many people. And the world to us.
CFC - 10 Principles - These principals describe the ideals we strive for in all we do and all we say, all for community.