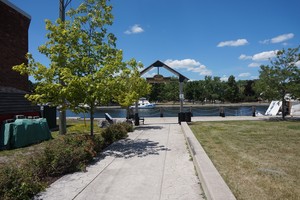 The Community Foundation partnered with the municipality on a grant application to the Northumblerland Community Futures Development Program to revitalize the waterfront in Campbellford.
Much of the makeover centred around Trent Hills top attraction and the gate-way for visitors - the Trent Canal. A waterside walk, park benches, nautical themed chain and post markers and a welcoming entry gate to the walkway enhanced this central core of Campbellford. New bridge lights were also added, to match the existing antique looking street lamps.
This project was jointly funded by the municipality, NCFDC, and the community foundation. The community foundation provided close to $310,000 in grant funding towards this project over 4 years, from the Municipal Fund.
The community foundation also provided grant funding to the Campbellford BIA for banners for the downtown area in 2006, for Christmas wreaths for the lamp posts in 2007, and for the new snowflake decorations in 2019.