Joseph Rudolf Marth Memorial Scholarship Fund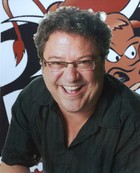 Through memorial donations from Joe's family and friends, Martha Murphy, spouse of the Late Joseph Rudolf Marth, created the "Joseph Rudolf Marth Memorial Scholarship Fund" in loving memory and to honour our "Funny Guy" Joe (Joey).
Joe was a McMaster University graduate and a very successful Radio Personality under the name of Joey Martin. Joe was an accomplished Voice Actor under the name of the Human Cartoon; his specialty was animation and he enjoyed national and international successes. Joe will be remembered as sharing his wonderful GIFT of LAUGHTER with those he met…..thereby leaving our world a better place!
This award will be presented annually to a student nominated by their peers and/or teachers, graduating from Campbellford District High School, and can be used for post-secondary education or an apprenticeship program.
The student(s) nominated will demonstrate Joe's signature trait of making people laugh, have a huge amount of confidence, and include everyone in sharing the laughter.
This student will have contributed to the overall "upbeat and positive atmosphere" of the school community. 
A request for nominations will be communicated to staff and graduating students at Campbellford District High School in early spring of each year. A student and/or teacher may submit a nomination form for more than one fellow GRADUATING student. Self-nominations are not accepted.
Congratulations to our Past Recipients:                 
2016              Ellie Conte
2017              Mara Pearson
2018              Kristen Doyle
2019              Abby Pearson and Elijah Brahaney
2020              Joel Murray
2021              Matthew Doherty
2022              Jackson McLennon

To make a gift or bequest to the Joseph Rudolf Marth Memorial Scholarship Fund:
Mail a cheque, made out to: 
Community Foundation of Campbellford/Seymour and Northumberland (CFCSN)
PO Box 1146
Campbellford, Ontario, K0L 1L0

Please indicate "Joe Marth Scholarship Fund" on the cheque's Memo line.
2. Send an e-transfer to info@cfcsn.ca with "Joe Marth Scholarship Fund" in the comments, as well as your full name and mailing address (for tax receipt purposes).
3. Make a secure online donation through Canada Helps - click on the "Donate Now" button to the right.